Is Apple HomeKit Worth It? (16 KEY Reasons Why!)
We're reader-supported; we may earn a commission from links in this article.
Apple HomeKit was first released in 2014 and it's been a long time since. So it has had plenty of time to prove itself.
If you're asking yourself the question: "Is Apple HomeKit worth it?", you're not alone because I was wondering the same thing!
So I did extensive research online on this topic and came up with some definitive answers.
Here's what I found:
Apple HomeKit is worth it. Apple HomeKit is worth it for its security, higher-quality devices, seamlessness with iPhones, iPads, Macs, Apple Watches, AirPods, and good HomePod functionality. It also features HomeKit Secure Video, iCloud, Handoff, Apple TV 4K, Siri, Scenes, and possibly "point & click" features.
Now that's just the basic reasons why Apple HomeKit is worth it.
In this article, I will cover each of these reasons in greater detail, so read on to find out more!
1) Apple HomeKit Focuses on Security and Privacy
When Apple first released HomeKit in 2014, they made sure to emphasize a lot on 2 things: security and privacy.
This was and is what helped Apple stand out from all its other competitors. The likes of Amazon and Google have much lesser security protocols and procedures needed for manufacturers to abide by.
Apple HomeKit is special because it serves end-to-end encryption between all devices within its ecosystem.
In fact, for third-party device developers to get their devices to work with Apple HomeKit, they need to go through two things to ensure security:
By installing an authentication chip, and
By undergoing security audits of their manufacturing processes.
With these procedures in place to protect your security and privacy, you can rest assured that your data is not exposed to hackers beyond your family members.
Do take note Apple Homekit-compatible devices may come with higher costs due to the efforts made to ensure robust security.
If you'd like to know more about the efforts Apple has taken to raise the standards of security and privacy, check out this article I wrote here.
In the article, I also discuss how this has raised the prices of Apple HomeKit products too.
2) Apple HomeKit Devices Have Higher Quality
Everything Apple-related always has a higher quality tagged to it! This is because Apple as a company focuses on perfection and on high quality.
This quality is seen in both Apple-branded HomeKit devices and third-party HomeKit devices.
Some examples of Apple-branded HomeKit devices include:
HomePod (2nd gen)
HomePod Mini
Apple TV
As these are part of the Apple ecosystem you can expect them to have similar excellent build quality, like that of other Apple products.
What's better is that their seamless software also works well with each other.
In addition, third-party HomeKit devices are also from big-name brands such as:
Ecobee
August
Phillips
Logitech
Bosch
Arlo
Aqara
eufy
Feit
IKEA
Nanoleaf
Bang & Olufsen
Bose
Harmon Kardon
Samsung
LG
As seen in the HomeKit-compatible device list above, some of these big-name brands are known for their quality tech products!
On top of that, these third-party device manufacturers have to abide by high standards of security and privacy rules set up by apple.
However, do take note that with quality, it may be more costly to build and maintain a HomeKit smart home due to the higher costs.
I still think it is worth it if you really are into durable and trustworthy products approved by Apple!
3) Apple HomeKit Works Seamlessly With iPhones
One of the reasons why Apple HomeKit can be really worth it is its seamless integration with iPhones.
This just spells super good news for you if you are already an iPhone user!
Through the powerful Home app by Apple HomeKit, the control that you can have over your smart devices are almost endless and is made super convenient.
In fact, iPhones support HomeKit controls from the control center, which makes it really convenient!
How convenient is that?! Imagine being able to control the smart lights in your house without even needing to open an app on your iPhone!
This is because HomeKit integration is so well built-in to the Apple ecosystem that extends to iOS.
In order to do this:
Go to Control Center, then turn on "Show Home Controls".
Scroll down and click on the green plus sign next to Home to add it to the included controls
Now you can simply swipe down from the top right corner of the screen pull up the controls center menu
Tap and hold the Home app. This will launch a display with all your smart home controls in one place.
The best part about the Home app? It's the aesthetically pleasing tiles that you can tap to control your smart devices!
It's so much easier to have an overview of the devices in one place, rather than the very spread-out format in Google Home.
Here's what the Home app looks like: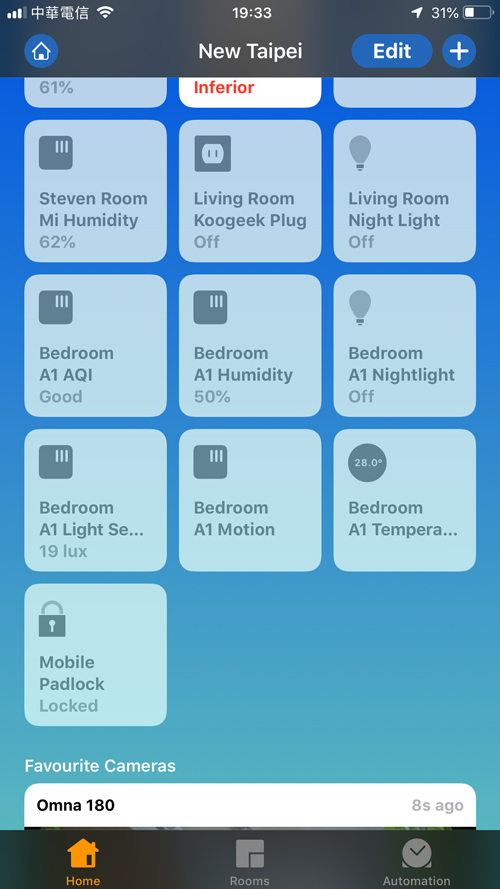 If you're new to the Home app, check out this video which will give you a brief run-through to get started:
Also, if you're into NFC tags, you can do so using your iPhones to turn off or on lights in your room, all through HomeKit automation.
Oh, and the best part about using an iPhone for smart home control is that you can literally control it from anywhere!
As iPhones support Siri too, you can easily command Siri using your iPhone from anywhere, including the toilet, which may not have any HomePods.
In fact, on top of iPhones, Apple HomeKit also works with Google Home! Read more about it in this article!
4) Apple HomeKit Works Seamlessly With iPads
Okay, maybe you've got an Android phone, but still want to have an Apple HomeKit. Having an iPad can also do very well to work with Apple HomeKit controls!
Here's why:
Apple's iPads can work as home hubs for the HomeKit ecosystem in your smart home.
If you aren't familiar with what home hubs are, they are simply hubs that will be the central hub to control all the functions of smart devices in a smart home.
For Apple HomeKit to work, you minimally need a home hub: and iPads will suffice!
Here are some examples of home hubs:
iPads
HomePods
HomePod Minis
Apple TVs
iPads are great at being home hubs.
However, they will need to be perpetually connected to the home Wi-Fi and not removed from the home to work.
You can think of it as similar to an Amazon Echo Show or Google Nest Hub!
As such, many have chosen to mount their iPad on a wall and to perpetually charge, similar to a digital control panel of sorts.
Similar to the iPhone, the iPad also works through the Home app to exercise all the smart controls in your house.
5) Apple HomeKit Works Seamlessly With Macs
It's as if having HomeKit accessibility on your iPhone and iPad isn't enough, you also have the option to control it using your Mac.
The Home app comes pre-installed with iMacs, Macbooks, Mac Minis, and basically all Macs.
Let's say someone's at the door and your doorbell rings while you're on the computer.
Rather than scrambling to find your iPhone or iPad, you can choose to have a look at the visuals for the front door using your Mac's Home app instead!
Not forgetting you can ask Siri to pull it up real quick for you too.
Well, isn't it convenient to have all your Apple products cross-talk all the time?! It truly is seamless to the point of being magical for owning a HomeKit smart home.
If you need some inspiration or ideas on how to integrate your smart home with the Home app on your Mac, check out this video here:
If you're into creating shortcuts on the Mac, you can consider learning how to do it through this video:
Here's the link to the app mentioned in the video!
6) Apple HomeKit Works Seamlessly With Apple Watches
Did you know that Apple watches can control HomeKit controls too? Now you know!
Upon launching the Home app from your Apple Watch, you'll be able to scroll through a list of the smart devices in your home and control them.
For example, for lights, when you tap the individual tile, you'll be able to turn it on or off.
You'll also be able to control their brightness by percentage by scrolling up or down after tapping the 3 dots on the top right corner of the device.
If your smart light also supports color-changing functions, you should be able to swipe left to reveal a color wheel, where you can select your desired color.
You may want to watch this video to discover how this works:
As Apple watches support Siri, you'll also be able to conveniently tell Siri to control devices for you. Of course, that's if you wear a watch around the house all the time!
To do this: Just press and hold on to the digital crown and talk Siri to control your devices!
If you are using watchOS 5 and later and Apple Watch Series 3 or later, you'll be able to enjoy using the "Raise to Speak" function with Siri!
This means you don't need to speak any trigger words like "Hey Siri, …".
You just need to raise your Apple Watch near your mouth and give verbal commands. Siri will understand your intent. Isn't that so cool?!
Here's a full guide on how to do this, as written by Apple Support.
7) Apple HomeKit Works Seamlessly With AirPods
Apple HomeKit boasts superb seamlessness with its ecosystem, and this extends to AirPods!
With Siri supported on Airpods, you're able to summon Siri entirely handsfree, as long as you have your AirPods in your ears!
If you happen to be listening to music around the house with your AirPods plugged into your ears, you can easily give commands to Siri to control HomeKit controls.
This means you'll be able to turn off smart lights when you're grooving to your favorite song!
How to use Siri to control HomeKit controls:
AirPods 1st Gen: Double-tap either of your AirPods, wait for a chime, then make your request to Siri.
AirPods 2nd Gen and AirPods Pro (1st and 2nd gen): Press and hold the Force Sensor, then make your request to Siri. (Customizable through settings on other Apple devices.)
AirPods Max: Press and hold the Digital Crown, wait for a chime, then make your request.
Alternatively, while wearing the AirPods connected to an Apple device, say "Hey, Siri", followed by your request to Siri. You'll be able to control smart devices around the house as you would a HomePod or iPhone.
Check the Apple website here for more updates on future AirPod releases.
The best part about this? You can control smart home devices while taking a dump and listening to your favorite music!
I'm just kidding!
8) Apple HomeKit Will Work With Matter
Apple HomeKit is set to work with a brand new protocol that allows for devices to cross-talk with each other and boost devices that will be supported by Apple HomeKit.
This means that prices of HomeKit-compatible devices will drastically increase and the variety of devices that you'll be able to choose from also increases!
This special protocol was previously named CHIP (Connected Home IP) but is now termed as Matter.
Matter was founded by the Connectivity Standards Alliance. Matter is a method for all the major smart home companies to come together to form a common "language" for all smart devices to communicate with one another.
When this is released, it will allow Apple to still remain its high security and privacy standards while supporting more smart home devices in the market!
If you'd like to know more about it, check out this video:
Read more about Matter here.
9) HomePod Minis Are Better Than Competitor Speakers
HomePod Minis are a crucial part of an Apple HomeKit-powered smart home. They can act as home hubs, centralizing and controlling all the smart devices in your home.
As compared to its competitors, HomePod Minis are much better sounding and louder than similar competitor speakers such as the Google Nest Mini and the Amazon Echo Dot.
Watch the video below to learn 10 uses for HomePod Minis:
Interestingly, you will be able to set up 2 HomePod Minis to use as stereo speakers for your TV, if you'd like!
You'll need the following:
2 HomePod Minis
1 Apple TV 4K (2nd Gen)
TV that supports HDMI ARC or eARC
You can watch the video below to learn how to do it:
10) Apple HomeKit Supports HomeKit Secure Video
HomeKit Secure Video is Apple's software solution for home video monitoring.
Here's how it works:
When a compatible camera is set to record clips around your home, it will send clips to your home hub (HomePod Mini/iPad). The home hub will analyze the clip to flag out motion or disturbances to be highlighted. These highlighted clips will be sent to your iCloud account for viewing.
Once the video clips are in your iCloud, you can view them from almost every Apple device:
iPhones
iPads
iPod touches
Macs
Apple TVs
Read how to do this on Apple's website.
However, HomeKit Secure Video will require an iCloud+ subscription with Apple, but this is relatively cheap and is available internationally. Read more about iCloud+ subscription pricing here.
Watch this video on whether it is really worth it:
11) Apple HomeKit Syncs All Personalized Information Across iCloud
As mentioned in my previous point, Apple HomeKit syncs up really well with iCloud services. Of course, this extends beyond just storage space and HomeKit Secure Video.
What's important about iCloud is its personalized settings that you can set that define you!
HomeKit will be able to detect your voice through Siri, and understand your routine, habits, and home context to carry out commands specific to you!
Siri would determine the actions for your voice commands based on information from:
Your photos in iCloud
Your folders in iCloud
Your contacts in iCloud
As a result, you'll be able to make phone calls and retrieve information personalized to you!
What about the security and privacy issues, since it's so personal?
No worries.
All the contents of this information are communicated via encryptions and are not visible to Apple.
When HomeKit accessories connect to HomeKit and iCloud services, they will need to go through a secure authentication process, so you would never have to worry about your personal information being leaked to third parties.
Read more about this on Apple's website.
12) Apple HomePod Supports Handoff From Other Apple Devices
Okay, this has got to be the coolest part about owning an Apple HomePod: the seamless Handoff feature!
Traditionally, Handoff was implemented for you to switch and continue your processes seamlessly between your Apple legacy devices.
Now, Handoff works by simply tapping the top of your HomePod Mini to transfer music playback from your iPhone to your HomePod Mini.
It works like magic!
See the video below to learn how this works:
13) Apple HomeKit Works With Apple TV 4K
If you already own an Apple TV, you are already half set for having HomeKit in your home!
This is because Apple TV 4K can act as a HomeKit hub to control all your smart home devices.
You don't need a HomePod Mini to get started!
Watch the below video to understand why Apple TVs are great for being HomeKit Hubs for your smart home:
14) Apple HomeKit Works Well With Siri
As mentioned in quite a few points above, Siri will work really well with Apple HomeKit. However, I thought that the functionality of Siri needed a point of its own because of how flexible it can be.
Before that, you'll need these devices that work with Siri in your smart home:
iPhone 6s or later
iPad Pro (11-inch)
‌iPad Pro‌ 12.9-inch (2nd generation)
‌iPad Pro‌ (10.5-inch)
‌iPad Pro‌ (9.7-inch)
iPad (6th generation)
All Apple Watch models
HomePod
HomePod Mini
MacBook Pro (15-inch, 2018)
MacBook Pro (13-inch, 2018, Four Thunderbolt 3 ports)
MacBook Air (Retina, 13-inch, 2018)
iMac Pro
Beyond the simple commands to Siri, you'll also be able to give complex, lesser-known commands like:
Apple TV Controls: Opening apps, turning on subtitles, pausing, playing, skipping ahead, rewinding ("Hey Siri, turn off subtitles")
Smart Device Exceptions: Turning off all lights except one ("Hey Siri, turn off all the lights in my bedroom except the mood light")
Temperature Controls: Checking the temperature ("Hey Siri, what's the temperature now?")
I got all these Siri commands from the video below, so do check it out:
15) Apple HomeKit Scenes Provide A Good User Experience
Apple HomeKit offers a really convenient function known as "Scenes".
Scenes are customized settings you preset that are saved as favorites so you can execute them easily. They can then be executed either via voice commands to Siri or on the Home app.
Scenes perform a set of specific functions across various smart devices which entail a specific purpose in your home.
Examples can be things like a goodnight scene, a movie time scene, or a cooking scene!
More on the Apple website here.
If you want a video run-through, check out this video introduction on scenes and automation in the Home app:
HomeKit scenes can be favorited to show up at the control center of iPhones and iPads.
It can be really convenient to control multiple smart devices with just the tap of a button – without speaking a single word!
16) Apple HomeKit May Work By "Point-And-Clicking" In The Future
Apple is an innovative company that has released products that make things so convenient for our lives.
Apple has also implemented the location-tracking Ultra Wideband (U1) chip in iPhone 11 onwards. This enables location tracking. This technology is also what enables the Handoff feature I mentioned in a previous point.
Envisioning the future, I thought to include this point of what developers recommend Apple implement: a point & click feature to control smart devices in a home.
This works by simply pointing your iPhone at a smart device and clicking a button to change its settings.
Do note that this feature has not been released yet and not confirmed to be released!
You can read an article about it here and watch the video demonstration from a talented independent developer below:
Final Thoughts
Okay, hopefully after revealing all the super cool functions that an Apple HomeKit system can do for your smart home, you'll be convinced that Apple HomeKit is very worth it!
If you're an Apple fan and just love the seamlessness of its ecosystem, I think it is very worth giving the Apple HomeKit system a try!
You'll really notice the difference.
Of course, HomeKit isn't perfect.
If, however, you'd like to know some opinions on why HomeKit is bad, check out this article on some reasons why so:
That's all and thanks for reading this article. Stay smart!
Justin is the founder and author of Justjooz. He is a Nanyang Technological University (NTU) alumni and a former data analyst.
Now, Justin runs the Justjooz blog full-time, hoping to share his deep knowledge of business, tech, web3, and analytics with others.
To unwind, Justin enjoys gaming and reading.